The value of hot glue guns in home improvement is underrated. It is a fundamentally simple and inexpensive tool used to make that précised delivery of adhesive fluid when sticking the desired décor on surfaces.
Moreover, it is a handy gadget that is versatile in what it can be used for, from DIY crafts to your daily home repairs, from industrial sized projects to projects too small for larger hands.
Let's have a look at what to look for in craft glue and the best models you can purchase to ensure your craft projects are as easy as they are interesting and fun.
Here are our best picks of the best craft glue guns that you can consider:
10. 20W Mini Hot Melt Glue Gun Kit with 30pcs Hot Glue Sticks, Holding Stand, and Scald-proof Rubber Nozzle Case, 100-240V (Version 2)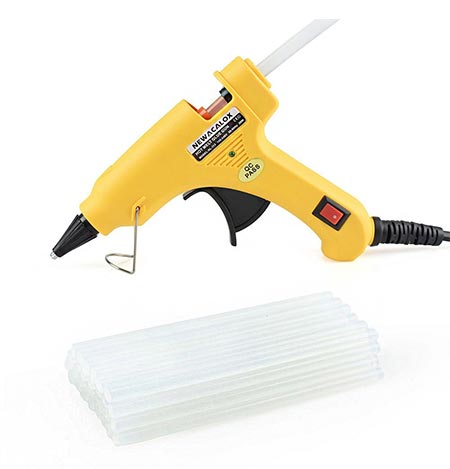 By: Newacalox
Crafted from high quality insulated abs plastic, this device is not just light and easy to handle but a neat and inexpensive one as well. The 30 7mm hot glue sticks that come with it are made of amino resin adhesive which is safe and non-toxic and so good for your health. In just 1-2 minutes, this safely fused blue gun will be all heated and ready to go. The insulated nozzle specifically ensures confident and strong adhesion and ease of use. A standard version requires 100-240 V of power and goes for less than $8. Based on that alone, it is great value for what it costs and a great choice.
Features
Detachable auxiliary stand if you to place it upright.
On and off button that lights up to notify you when it is on.
Comes with 30 free glue sticks.
9. Mini Detailed Glue Gun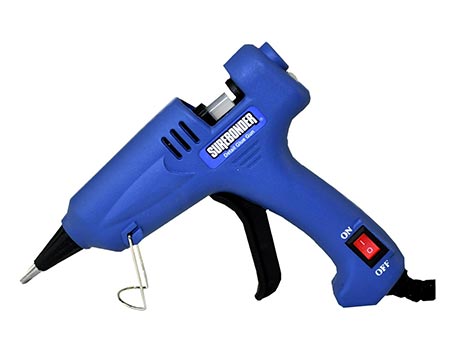 By: Surebonder
This nice little glue gun works extremely well to give a neat and soft to use trigger action. Just like the model above, this one also features enhanced protection measures in the safety fuse, an insulated nozzle and the additional detachable auxiliary stand for. Works well with high or dual temperature sticks. (5/16 "diameter by 4" or 10" length) At a minimal 20 watts, 120 v of glue application, the mini detailed glue gun is right for hobbyists and DIY fanatics. More powerful 60watts and 100 watts options are available, all dual temperature. Side fins are fitted to ensure the safety of the glue gun when it lies on sides. It's not bad value for money either
Features
Automatic shut-off technology after 30 minutes to ensure safety.
Interchangeable nozzles for DT-360F and DT 3100F models.
On and off switch allows you to leave it on the socket while it is switched off.
8. AI 300 Watt Hot Glue Gun, High Output Professional Adjustable Switch High-Temperature Industrial Adhesive Hot Melt Glue Guns; Yellow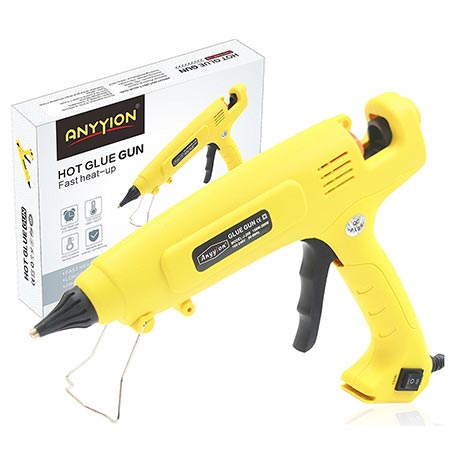 By: Anyyion
We must reckon that this is the most powerful glue stick of the lot. In spite of the blistering 150 – 300wand 100-230v of power, the fast heat-up is timely to ensure you are ready to glue away in 2 – 5 minutes. That is descent duration for the heavy-duty device .User safety has been effectively optimized for the smart temperature control to regulate temperature and On/Off LED lights. Overheating has also been done away with, an internal safety fuse comes fitted for this. Delivery of the glue stick to the device is smooth and easy thanks to the Anyyion hot melt glue gun kit. It is a worthy buy after all and I highly recommend it.
Great visual reminder to turn the thing off
Features
A 150 – 300-watt adjustable switch for switching between light and heavy duty craft projects.
PTC constant temperature allows you to regulate the temperature at a set value.
7. AdTech Two Temp Hot Glue Gun for Crafting and DIY/ Two Temperature/Dual Temp for Heavy-Duty AND Delicate projects/Item #0453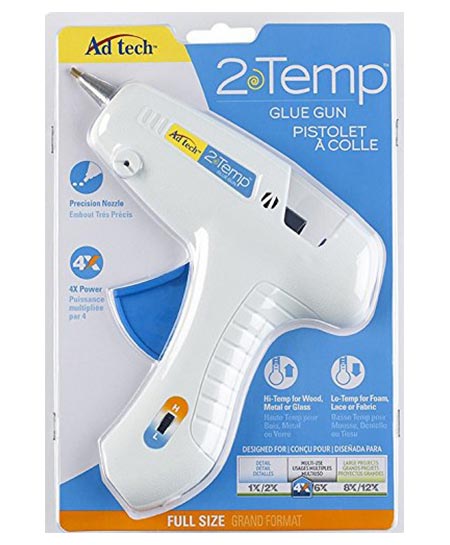 By: Adhesive Technologies
This 40 watt 120v well-designed device is handy for everyday repairs. It is characterized by a thin precision-aimed detail nozzle so no glue can leak out. You are sure to find a 5-foot power cord, though you can make it cordless if you want to. It also features a stand. This glue gun is clearly designed with long life in mind; the low-temp option will not hurt your fabric, paper. The neat and tidy finish and stable adherence are good enough reasons to check out this simple but effective craft glue guns.
Features
Dual temperatures mean compatibility with both high temperature and low-temperature glue sticks.
The detachable cord can work for five minutes without the cord.
6. Hot Glue Gun kits, 10pcs Glue Sticks High-Temperature Melting Glue Gun 100-Watt Industrial Glue Gun Flexible Trigger for DIY Small Craft Projects Sealing and Quick Repairs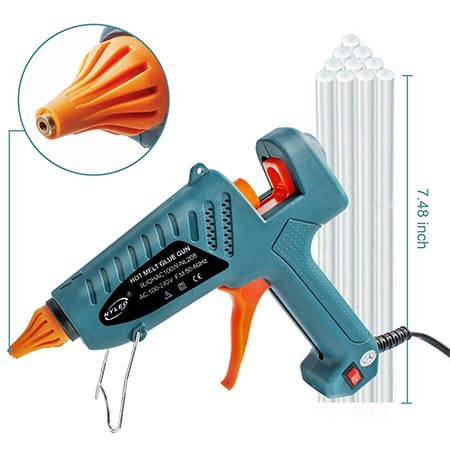 By: Yougai
Well worth a second look and the few extra dollars, this easy-to-use glue gun will offer a cleaner and more professional looking touch to your craft projects. 2-5 minutes is all you have to wait for the dark-green 100-watt glue gun to fully heat. If you want safety, it might be the one. The copper nozzle has been made to withstand high temperature, with a protective plastic cover, an Off/Off switch and LED light to keep you protected.
A detachable metal stand is also awarded every purchase. This fused adhesive tool serves all your needs with the 100v – 240 and 50-60 Hz Trigger Feed Hot glue gun. It is a device you can't afford to miss at your place.
Features
10 pieces of free glue sticks.
Smart temperature control to control
100% money back guarantee if you are not happy with the product.
5. Crenova Hot Glue Gun Kit for DIY Small Craft and Quick Repairs in Home & Office, 50 Pieces Transparent Glue Sticks Included, 20Watt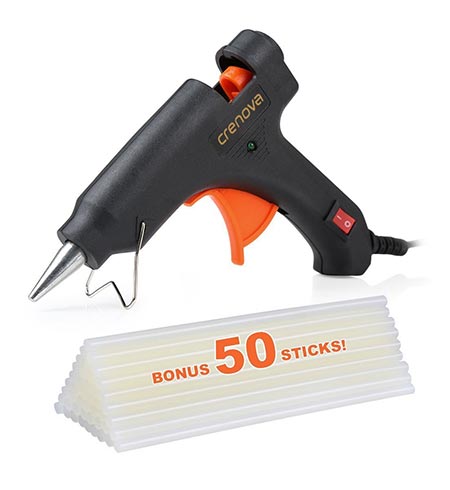 By: Discoball
This black compact hot glue gun is made for smaller craft projects. At 50 watts of power and electrical voltage of between 100 – 240v, it takes a practical 3-5 minutes to heat up. A PTC heater component and a switch on the side ensure safety. Not to forget the superb levels of accuracy thanks to its small size and the automatic temperature control technology. The package features a metallic stand. It offers a small but efficient way to put your things together.
Features
50 pieces of glue gun stick included.
100% replacement or refund guarantee in case of genuine flaws in the product.
4. Blusmart Mini Hot Glue Gun with 25 Pieces Melt Glue Sticks, 20 Watts Blue High-Temperature Glue Gun for DIY Craft Projects and Repair Kit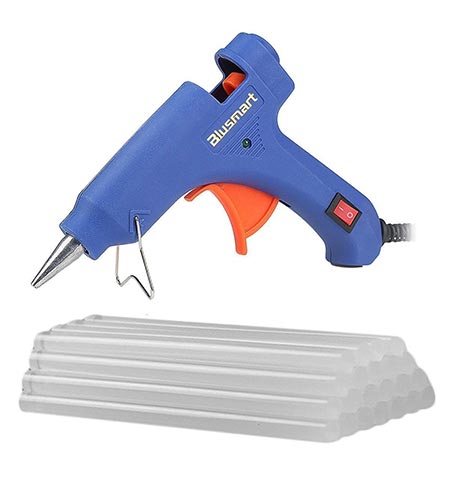 By: Blusmart
This craft glue gun will impress if you need the very neatest of gluing. For a start, it is demands only 20 watts and 100 – 240V for the accurate application of glue that it offers. This glue gun takes an average duration of 3 – 5 minutes to achieve the right temperature. The safety measures are commendable, and the gun kit is environmentally friendly. Another great product you should check out!
Features
25 pieces of hot glue sticks.
100% money back guarantee should you not be satisfied.
3. Best Hot Glue Gun (BONUS 25 GLUE STICKS INCLUDED) – Heavy Duty 20 Watt Rapid Heating Technology – 100% Safe – Energy Efficient – Perfect for Fixing Household Items, Arts & Crafts, & More!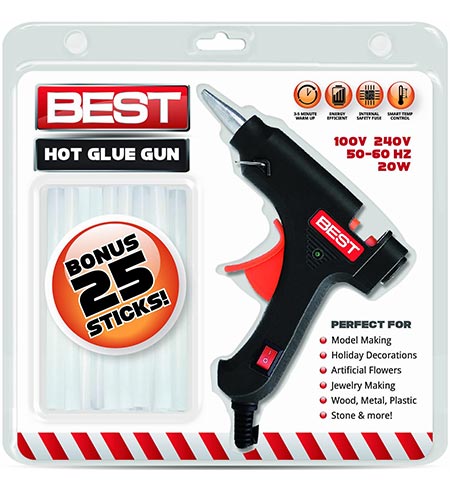 By: Best
As a precision delivery item, this product plays its role perfectly and is worth paying attention to. It takes the 20-watt glue gun at least 3 minutes to melt your glue sticks. The manufacturer was keen on safety, with an internal fuse, smart temperature control feature and an LED On/off display. The lightweight yet sturdy glue gun is designed to feel comfortable in the hand and is simple to handle and operate. The gadget is impressively cheap to buy at less than $10making it a great tool to use for your crafting need.
Features
25 bonus glue sticks.
100% money back guarantee.
2. Hot Glue Gun, Cobiz Full Size (Not Mini) 60/100W Dual Power High Temp Heavy Duty Melt Glue Gun Kit with 10 Pcs Premium Glue Sticks(0.43" x 8″ ) for Arts & Crafts Use, Christmas Decoration /Gifts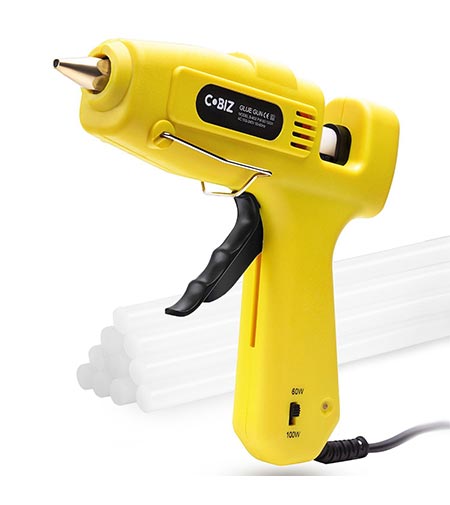 By: Cobiz
Not many times do you come across a product that has almost everything you need. This tried-and-tested, yellow glue gun has been crafted with Ergonomic design and a practical size making it comfortable for your hand. Best has done an excellent job with their rapid heating feature that takes 1 – 3 minutes and dual power (60/100W) to specifically suit your demands. This versatile tool is designed not only for home and DIY use but also for industrial purpose
.
Features
10 glue sticks.
3-year free replacement warranty.
1. CCbetter Mini Hot Melt Glue Gun with 25pcs Glue Sticks High-Temperature Melting Glue Gun Kit Flexible Trigger for DIY Small Craft Projects Sealing and Quick Repairs (20-watt, Blue)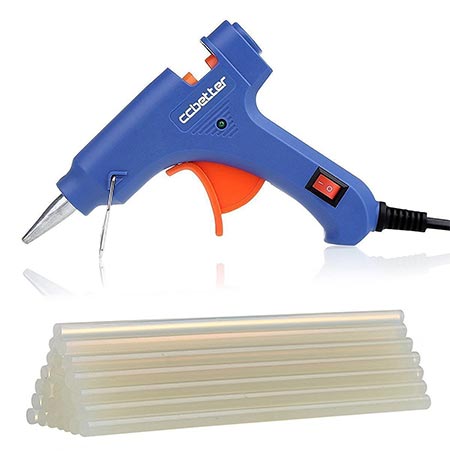 By: CCbetter
This 20-watt glue gun is enough for most craft and surely worth a look. A convenient on/off switch means you don't have to unplug to cool it down. Similarly, the LED light lets you know when the glue gun is on. A glue stick takes less than 3 minutes to adequately melt up ready for bonding surfaces. A stable bracket is also available for support. We recommended this toy like, fun-to-use glue gun for crafters who mainly work on smaller craft projects and want the convenience of additional features such a detachable stand and an on/off switch.
Features
25 glue sticks.
100% money back guarantee.
Lifetime warranty.
Why you need a craft glue gun?
It is simple to use
All glue guns entail the basic concept of a live gun, where you pull a trigger to release the glue from the nozzle. This is simple and straight-forward for all walk of life.
Its reasonable price
Most craft glue guns cost less than $10, fairly cheap for the useful and clever machines that they are. At that cost, you can happily afford to acquire one and store it in case need may arise around your home.
They are neat, tidy and clean
When it comes to workmanship, glue guns are efficient to deliver that perfect finish. Glue can be messy, spreading all over the place. With a glue gun, you won't need to deal with sticky stains on your body parts, your clothes or furniture.
Factors to consider before buying craft glue guns:
Ease of use:


The ideal craft glue gun should be easy and comfortable to use, lightweight and should take a short period to heat. It should be usable for both the left-handed and right-handed.

Affordability:


compare the price of the glue gun with your craft budget to avoiding eating into funds meant for other purposes. The power consumption is also to be considered. With highly powered guns, you will be sure to pay more for electricity than their less powered cousins.

Packaging and flexibility:


Some glue guns come with glue sticks, others don't. Going for models that come with glue sticks will save you money. Alike, look for a gun that works well with universal glue sticks and are easy to replace

Size and wattage:


Depending on the size of your project, pick a capable size of a glue gun. The higher the wattage; the higher the ability to heat up.

Quality and durability:


It is undeniable that we all yearn for high-quality products that can last. You should opt for reputable brands that produce high quality and long-lasting glue guns that won't leak after a while.

Safety:


Safety features like LED lights, the On/Off switch; automatic temperature control among others will protect a user from the risk of burns while making operation easier.
Wrap it up
We understand the strain and confusion during comparison of these worthy products. Make no mistake!
This detailed article will sure make a difference when you are looking for the best craft glue guns. Be sure to add one of them to your cart!