Are you interested in a motorcycle GPS unit that is way above the rest? The most annoying and frustrating thing about riding a motorbike is trying to explore new routes, while at the same time having completely no idea where you are going, or how to get back to where you came from or worse still, finding out how to get back home.
Let's take an example, you find a perfect road for exploring the limits of your bike, however after riding down it, how do you find your way back to that road the next time you want to head out and test the limits of the motorbike.
One disadvantage is that bikes don't come with an in-built GPS navigation system. Therefore, if you find out where to get a specific destination or get yourself home after you have been for a ride, then you are going to need a motorcycle GPS unit. Below are some of the best options in the market.
Let's take a look best seller & special offer
6. Garmin Zumo 396 LMT-S, Motorcycle GPS with RAM-B-367U Motorcycle Handlebar Clamp Mount 010-02019-00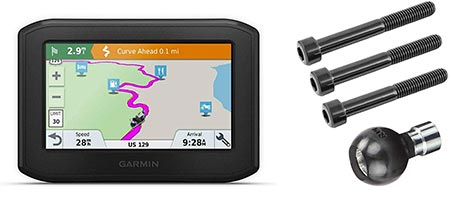 Zumo 396 LMT-S motorcycle navigator is built to turn straightforward rides into a road-gripping adventure due to its all-weather construction, wireless connectivity, and user-friendly 4.3 inches touchscreen display.
Features
Sunlight-readable 4.3 inches display
It is resistant to fuel vapors UV rays and harsh weather
Accesses free Live Services for traffic and weather using the smartphone link app
5. Garmin Zumo 390LM 4.3-Inch Motorcycle GPS Navigator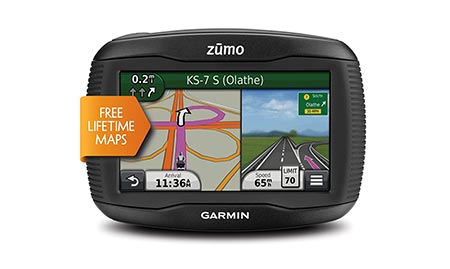 Zumo 390 LM is a motor GPS unit with a highly visible sunlight-readable 4.3 inches touchscreen display with a simple, glove-friendly interface. It comes with other new features like hands-free phone control via Bluetooth technology. These features help find your way around curvy roads. Zumo is also compatible with new accessories like a tire pressure monitor, which allows for wireless monitoring. This pressure monitor is, however, sold separately.
Features
Glove-friendly, sunlight-readable 4.3 inches touchscreen display
Rugged, waterproof, and resistant to fuel spills and UV rays
Bluetooth technology for hands-free phone control and spoken directions via headset.
It integrates seamlessly with the tire pressure monitor system (sold separately)
4. Trail Tech 922-111 Voyager Pro 2017-2018 KTM Husqvarna Motorcycle Powersports GPS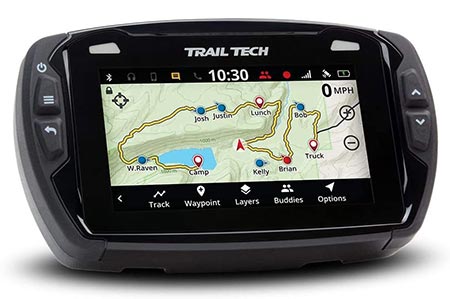 This is a premium GPS unit for Powersports. It has a map screen enabled with a base map, topography lines, hill shading, and some trails.
It also has a significant feature called buddy tracking, which uses localized radio signals and can support up to 20 riders in a single group. You can view members of your ride group on the map screen in real-time, increase your following distance, and use the buddy beacon to summon your friends.
This motorcycle GPS unit is Bluetooth enabled for intercom, phone, and media controls. You can play songs from your phone or memory card using a Bluetooth headset, speaker, or you can as well use the intercom. You can also connect two phones and or two headsets at the same time.
Additionally, the unit has a 4-inch glove-friendly color touchscreen display that is visible in all weather conditions. It is built to withstand harsh elements that come with extreme riding conditions
Features
It has off-road GPS with a 4-inch color touchscreen anti-glare display which is appropriately sealed and rated IP67 for anti-dust water intrusion
Bluetooth enabled for phone dialing, media controls, messaging, and intercom
Buddy tracking technology
It has a color navigation screen, topography maps, and hill shading and also supports tracks, routes, and waypoints.
3. TomTom rider 550 motorcycle GPS Navigation Device.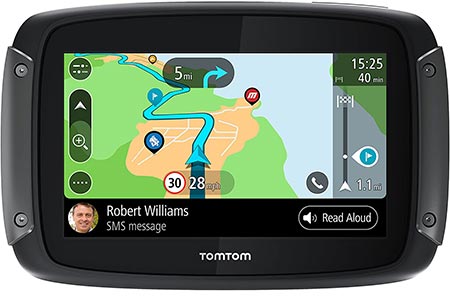 Do you want to discover the most exhilarating, exclusive new routes? Then you should choose the Wi-Fi connected TomTom GPS unit. With this Powersport GPS device, you can personalize trips with hills and curves, sync it with your device, then you can ride. This device allows you to control everything on your connected smartphone with voice via google go or Siri.
This motorcycle Powersports GPS unit has a glove-friendly touch screen that offers new levels of sensitivity. The smart screen on TomTom rider can be switched between light and heavy glove modes to suit you and the kit you are wearing.
It's designed also makes it durable for dropping and riding in all weather conditions. The touch screen remains accurate even when wet for constant control.
Features
A smart screen
A mounting system
It has world maps, traffics and services
Weatherproof built
2. Germin Zumo XT, All-terrain Motorcycle GPS navigator device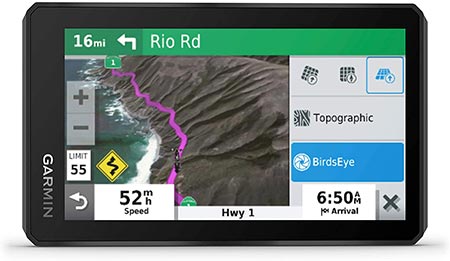 Germin Zumo XT, All-terrain Motorcycle GPS navigator device, is built for adventure. It has an ultra-bright 5.5-inches glove-friendly display, which is rain resistant and can withstand all kinds of weather conditions.
It has BirdsEye satellite imagery for off-road guidance, and no subscription is needed at all. This motorcycle GPS unit has a feature called rider alert that helps prepare the riders for sharp curves and railroad crossings.
Features
Ultrabright display
Rugged build
Lasting power
BirdsEye satellite imagery
Preloaded on-road maps and off-road maps
Simple map switching
1. Garmin Zumo 396 LMT-S, a motorcycle GPS unit.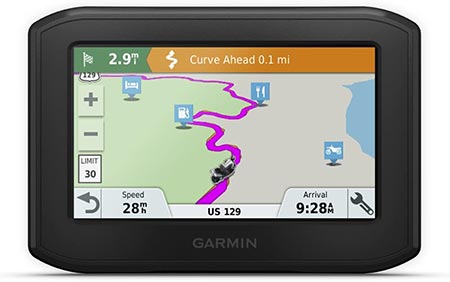 With a full suite of GPS and online features, the Garmin Zumo 396 LMT-S motorcycle GPS unit makes your ride safer, more comfortable, and more fun. Sync up with Bluetooth enabled helmet, and you hear turn by turn directions of lifetime updated maps.
This device allows you to do the following:
make and receive free calls and weather notifications,
find curvy routes
play music from your phone
track fuel consumption and maintenance
Get warnings about speed limits and road hazards.
It has built-in Wi-Fi for comfortable map and software updates without a computer.
Features
free live traffic and weather
built-in Wi-Fi keeps you updated
rugged, road-tested design
glove-friendly readable display
pares with smartphone
Buying Guides of motorcycle GPS unit
A motorcycle GPS unit is a handy piece of gear used for riding all types of motorcycles. They can be mounted on the handlebars, gas tanks, or windscreens. The best GPS units will help you get where you are going with a lot of ease.
Here are some features to be considered when choosing the best GPS unit for your needs.
1. Mounting Options
When it comes to selecting a GPS motorcycle mount type, the standard options are tank mounted or bar mounted
Bar-mounted is an excellent GPS motorcycle mount since the GPS stays in the same place even when turning. They are also more secure as they are fully wrapped around and locked into place with mounting screws.
A tank-mounted motorcycle GPS unit can be installed in different ways. One major disadvantage is that you will have to look down to see them because they tend to be low and very close to you.
2. Motorcycle GPS Features
The essential navigation feature is built into any navigation you have to choose these days. However, there are many vital features that one would want in their motorcycle GPS unit. The choice is up to you.
Voice navigation is crucial to motorcycle GPS units because you will want to keep your eyes on the road as much as possible.
Headset paring, which is usually done by Bluetooth technology, is also an essential feature to consider.
Route options for motorcycle GPS units are vital since they help deselects some route criteria and avoid some road types.
3. Waterproof features
Weather is always a big issue on motorcycles. Going for a waterproof GPS unit is a critical buying decision.
4. Device Construction
A Ruggedize frame might be worth seeking if you do a lot of off-road riding or harsh routes.
5. Touch Screen With Gloves
Most motorcycle riders wear gloves when riding. That is why choosing a glove-friendly display is very important.
6. Anti-Glare Properties
If you have sensitive eyes and would be grateful for a motorcycle GPS unit that is easy to view, then you should consider going for ones with anti-glare screens.
7. Battery Life
You should choose GPS units with longer-lasting batteries to avoid any inconveniences
8. Durability
Make sure that the motorcycle GPS unit you purchase is resistant to vibration and reverberation, which happens a lot on the roads. You are not always going to travel on smooth roads. A durable motorcycle GPS device is the one that allows you to go anywhere and use it with a great deal without worrying that it might get broken.
Conclusion:
Adding GPS to your motorcycle can expand your horizons beyond your imagination. There are products on the market that suit everybody's needs, whether off-road, on-road, or adventure. All the motorsport GPS units covered here are motorcycle specifics.
Two key elements to maximizing the importance of GPS are the mapping products available for mobile device user interface or computer. You will find yourself spending more time on your mobile device or computer, laying out your next ride.
Whatever you need, there is a motorcycle GPS on our list that will make you enjoy your trip. Choose the correct motorcycle GPS unit for you by using our list and enjoy enhanced riding in the future.